URGENT HIRING HR SUPERVISOR!
July 20, 2018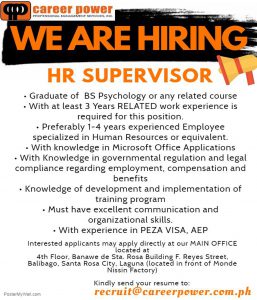 WE ARE URGENTLY HIRING FOR
HR SUPERVISOR (LAGUNA TECHNOPARK)
Qualifications:
• Graduate of BS Psychology or any related course
• With at least 3 Years RELATED work experience is required for this position.
• Preferably 1-4 years experienced Employee specialized in Human Resources or equivalent.
• With knowledge in Microsoft Office Applications
• With Knowledge in governmental regulation and legal compliance regarding employment, compensation and benefits
• Knowledge of development and implementation of training program
• Must have excellent communication and organizational skills.
• With experience in PEZA VISA, AEP
You may apply directly to one of our offices below:
MAIN OFFICE
4th Floor, Banawe de Sta. Rosa Building F. Reyes Street, Balibago, Santa Rosa City, Laguna
CAVITE OFFICE
4th Floor CRDM Bldg. Governor's Drive Center Congressional Road, Brgy. Maderan GMA, Cavite
CALAMBA OFFICE
Unit 2A The Calamba Executive Center, Brgy Uno Calamba Laguna
EXAM AND INTERVIEW SCHEDULE:
MONDAY TO SATURDAY
7:30 AM to 8:30 AM
Bring your updated resume and a black ball pen.
You may bring and refer your friends!
NO FEES TO BE COLLECTED
BACK TO TOP